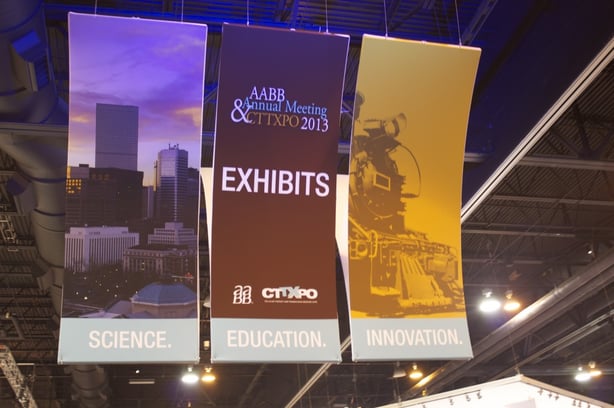 We traveled to the 2013 AABB Annual Meeting and CTTXPO in Denver! To read about Part 1 of our trip, click here. To read about Part 2, click here.
I ate some chocolate at the CTTXPO, which is the reason for the title. Really reaching with the movie puns on this one.
Day 3: Getting some knowledge
Thus far, I have mainly touched on Dickson's time at the CTTXPO, and our interactions with the show's attendees. On our third day at the show, that all changed! On Monday, Carly and I each attended one of the 120 interesting educational session at the Annual Meeting, and recapped what each speaker had to say below:
Session #1: Why Do You Demand the Best Cell Phone but Settle for Outdated Technology at Work?
Director: Charles Mooney
Speakers: JP Potter
This was the session that I attended, and it addressed a lot of the problems that Dickson encounters when selling our products, and the challenges facing change in the blood banking world.
The first speaker, JP Potter, the CIO at the Oklahoma Blood Institute, spoke on how the most influential goals in the world sometimes only take the smallest changes to accomplish.
He began with this famous TED Talk, made by Terry Moore about tying your shoes. It's less than 3 minutes, and I recommend watching it.
http://www.youtube.com/watch?v=zAFcV7zuUDA
You could feel the obvious next two questions being silently asked by the audience: "What does this have to do with blood banking, and what does it have to do with technology?
Mr. Potter answered these questions by looking at technology already available, and explaining it in colloquial, blood banking terms (oxymoron) terms. He split his talk into two types of technologies used in the blood bank: Donor Services Technologies, and Product Handling Technologies. He then moved through specific technologies in each area, like RFID tags and KPI, myth-busting the perceived overwhelming nature of the incorporation of new technology in health care.
Potter's talk rang true of not only Dickson's incorporation of new technologies internally, but our customers movement from older technology (i.e. chart recorders) to new technology (i.e. DicksonOne).
Chart recorders were invented sometime in the 1850's, yet their functionality (albeit antiquated) has left people using them to this day.
After walking out of the talk, into bright florescent lights of one of the show's many hallways, I reflected on what Potter had to say. The question Potter forced me to grapple with, was not how to convince someone to switch to newer technologies, but how Dickson can continue to make that switch a series of small, relatively easy changes.
In all, the talk was simple yet challenging, making my second to last day at AABB something of an educational treat.
Session #2: Quality Management
Moderator: Sherry Sheldon
The talk that Carly attended was much different than mine. Instead of only 1-2 speakers, she had the pleasure of hearing 6 talks focused on explaining recent research performed in the blood banking field, and one of these discussions stood out to her:
The first was a discussion of Flash Frozen Plasma and Thawed Frozen Plasma. The study focused on the importance of ensuring the proper thaw-time for plasma, as plasma units have a tendency to clot. As Carly summarized, "Perfecting the thawing process will prevent clotting, and it will eliminate the loss of FVIII levels in plasma." We plan on researching this process in the near future, and posting on the proper regulations and process for thawing plasma for your enjoyment.
The educational sessions AABB put on at this years Annual Meeting were incredibly beneficial to me, and Carly has said, "her as well."
As the final day of the show came to an end, and we packed up our booth, headed back to the Denver Airport, and back to our homes in Chicago, I think I speak for both Carly and I when I say it was an informative, interesting, and fun show.
---