Quick Episode Recap:
In this week's episode of "Person of Interest" (Season 3, Episode 17), the Machine takes Root down a winding path of confusing tasks, which culminates in meeting and trying to protect a janitor, who goes by the name Cyrus Wells. This is the return (and the redemption) of Root in the eyes of viewers and in the eyes of Harold and his team. The episode transitions between Harold, Root, Shaw and John, each of whom figures out what Decima and Vigilance want with a "random" janitor. Root knows the most from the beginning (as the Machine is in her ear), but in her quest rescuing her own character values, she muddles the mission at hand, specifically the details of who, why, when, and where for Harold's team.
Those details are about a chip. Supposedly, Decima has built their own "machine" titled Samaritan, but the only chip fastest enough to make Samaritan work is hidden on the 19th floor where Cyrys himself works. While Cyrus Well's confusing backstory shades into Root's past, each party races to find the chip, which has been supercooled in a test lab (Cyrus is one of the few people with access to the chip).
And then this happens . . .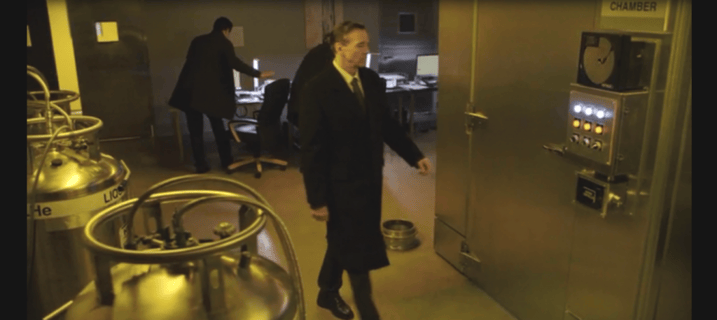 Notice anything special about this shot? Check in the upper right corner . . .
Yup! That is a Chart Recorder, and yup, that is a Dickson Chart Recorder. Here is a closer look . . .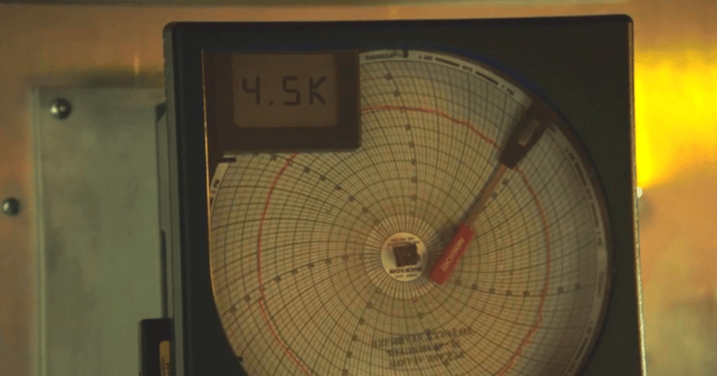 I promise your eyes do not deceive you: last night Dickson officially made it big. Not the sort of big that warrants a star on the Hollywood Walk of Fame (just give it a few years), but the kind of big that warrants a blog post . . .
"Person of Interest" is a crime-drama television series on CBS (Tuesday's at 10:00pm!) that centers around a billionaire genius (Harold Finch, played by Michael Emerson) who creates "The Machine," a device used to predict acts of crime through the use of the world's surveillance cameras. This set-up yields a variety of episodes, with multiple storylines that focus on the team he develops, the crimes they try to stop, and a variety of terrorist, hacker, and other groups that want a piece of The Machine to do the world some harm.
A month or so ago, one of our team members, Vijay, got a call from Mr. Larry Orvieto, a set purchasing agent for "Person of Interest." Larry called Dickson for a little help in finding the correct chart recorder for what this particularly important scene needed.
In this scene, viewers would need to be made aware that the temperature inside the chip's test chamber was really, really, cold. A good way to do that? Stick a big old chart recorder with a display on the front of the test chamber (outside of Hollywood, many of Dickson's customers do this as well).
Here are a couple of photos of the set being built: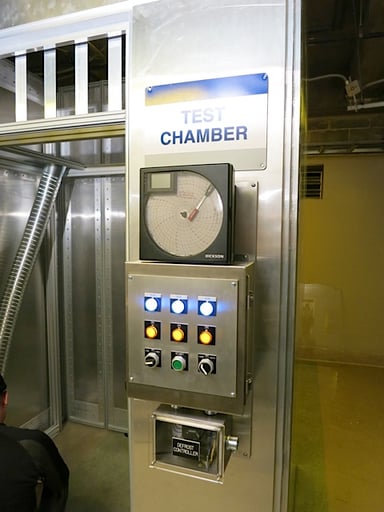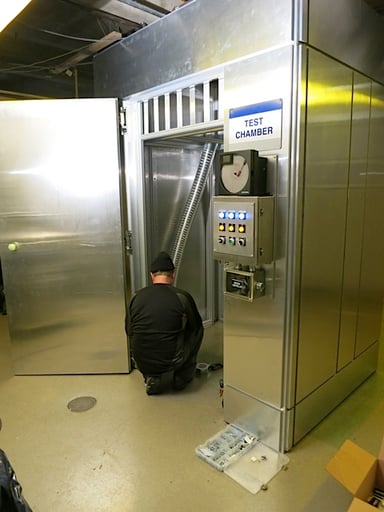 Vijay was able to send Larry an 8 inch Chart Recorder, and do so in a timely manner (the device was needed ASAP as filming was due to start soon). There are more than a few "Person of Interest" fans in the office, so when the name of the TV show came up, we all got really excited and I started to write. We obviously didn't want to break the news until now (spoilers are a huge bummer).
The rest of the episode is fast-paced (and that's not just because I fast-forwarded through the commercials), even for the quick storytelling that showrunner Jonathan Nolan has mastered. We won't spoil the ending, just go and watch.