Dickson's FT520 Paperless Touchscreen Data Logger/Char Recorder was recently featured as a New and Noteworthy Product by Pharmacy Purchasing & Products (PP&P).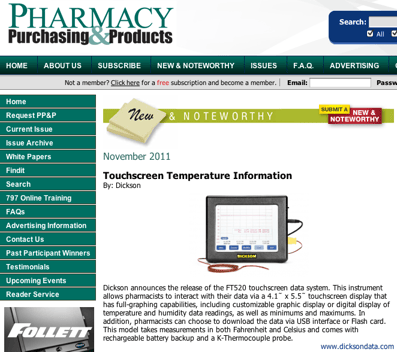 Here's the detail from the column:
Dickson announces the release of the FT520 touchscreen data system. This instrument allows pharmacists to interact with their data via a 4.1˜ x 5.5˜ touchscreen display that has full-graphing capabilities, including customizable graphic display or digital display of temperature and humidity data readings, as well as minimums and maximums. In addition, pharmacists can choose to download the data via USB interface or Flash card. This model takes measurements in both Fahrenheit and Celsius and comes with rechargeable battery backup and a K-Thermocouple probe.