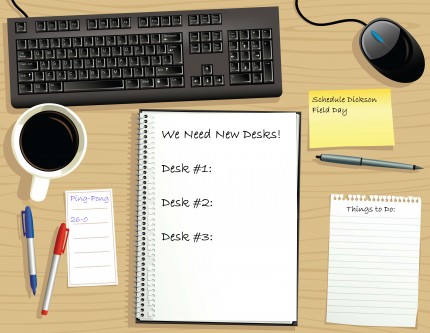 Dickson recently asked it's Inside Sales Team for suggestions on improving their workplace. The first, and in-fact universal response? Standing Desks. We looked into it this fad, and found that sitting all day really isn't good for someone. The answer to Inside Sales? An absolute yes.
This was Standing Desk #1:

That's Kristin, Dickson's OEM Account Manager, working at prototype #1. We didn't even ask her for an opinion on her makeshift standing desk.
So Standing Desk #1 was a bit of a failure. Next up, Standing Desk #2: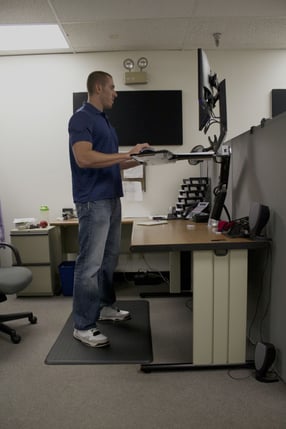 That's Dave, an Inside Sales Representative at Dickson. He's standing at an Ergotron, produced by CDW. We asked Dave what he thought of his desk, and he responded with some pro's and con's:
Pros:
Standing, duh.

I feel more energized throughout the day.

The desk is overall better quality.
Cons:
It's tough to write on.

Feet become sore.

My cables and computer cords were smashed during desk construction.
For Dave, the desk is worth it, even with the drawbacks he mentioned. As for sore feet, Dave mentioned that Dickson provided him with a stress pad to stand on, greatly decreasing his discomfort. The cables? You live and you learn. New cables are on their way.
Trial #3
But "It's tough to write on" was an issue. So we kept searching for a perfect fit. Plus, standing gets old. Wouldn't it be cool to easily sit or stand and have a large surface to write on? Welcome to Standing Desk #3: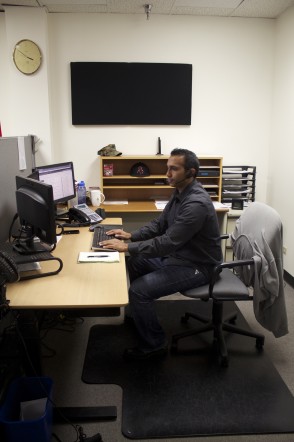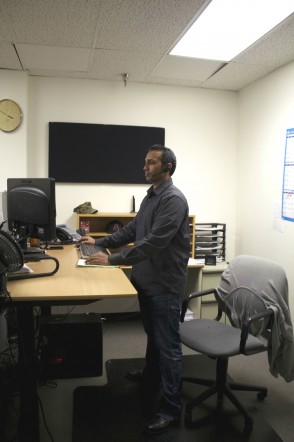 That's Vijay, Senior Inside Sales Representative at Dickson, and he now stands and sits in a GeekDesk.
We asked Vijay what some of the Pro's and Con's to the desk where, he replied:
Pros:
Adjustable to my height and preference

Fast and easy-to-use up or down button

Quick setup with 2 people

Large surface area for writing

Durability, solid construction made to last

AWESOME, I feel energized
Cons :
(Possibly) difficult to set up with one person

If you are lazy or impatient holding down a button to adjust height may be aggravating to some

May want to stand too much and not take a break to sit down due to desk awesomeness
If you are a one-person business, with no friends or family, we can't help you with the first of Vijay's cons. The second we can help with. GeekDesk makes a desk which comes with position presets, aptly named the "Max Desk." The last "con" kills me. Vijay is obviously reaching, and as you can tell, he thinks the desk is a worthwhile investment.
Looking to the future
We're sticking with Desk #3, the GeekDesk, and we're excited to get all of our employees standing, or sitting, in the workplace. At Dickson, we want our customers to be successful. That starts with providing a fun and healthy work environment for our employees, as they produce some of the most innovative products in the data monitoring industry, and strive to help our customers in the best ways possible.