From manufacturing to vaccines, tracking environmental conditions is essential to protecting your assets and remaining compliant with various regulations. Traditionally, monitoring temperature, humidity, pressure and more have been accomplished using chart recorders and data loggers. These systems are typically mechanical in nature and can be time-consuming to monitor, retrieve and report on data.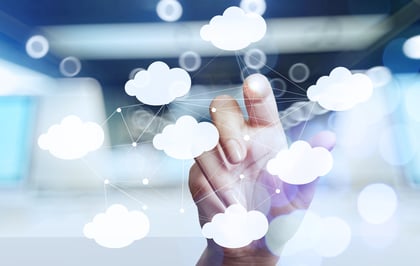 Advances in technology and the Internet of Things (IoT) have led to a fundamental shift in environmental monitoring. Many traditional methods of data logging are being replaced by cloud-based and even SaaS offerings. But what are the benefits of switching to a environmental monitoring cloud-based system?
Efficiency
Instead of requiring an employee to individually collect paper charts or download data, cloud-based systems will automatically send and store environmental condition data to your account. Accessing information on any sensor becomes faster and easier, making your operations that much more efficient.


Accuracy
Electronic and digital logging devices are inherently more accurate than chart recorder analog technology, as they eliminate precision issues associated with chart records and no point is lost to more manual methods of labeling and categorizing data. Environmental monitoring cloud-based systems are always collecting and uploading their data to the cloud, allowing for 24/7 data availability. This makes it easier to spot-check and verify sensors without needing physical access to the sensor(s) in question. Reporting can extend accuracy by giving users trend graphs, data summaries, and quick-view dashboards for one or all your loggers.

Compliance
Whether you're in research, manufacturing or healthcare, complying with complex regulations can be difficult. Depending on your products or service, your environmental monitoring may also be subject to 21 CFR Part 11 guidelines, which establishes the United States Food and Drug Administration (FDA) regulations on electronic records and electronic signatures. Be sure if you switch to a cloud-based system that it offers out-of-the-box compliance features to help you meet 21 CFR Part 11 and any other industry-based regulations that apply.


Scalability
Most cloud-based systems are designed to be easily scalable. Whether you have one collection point or hundreds across multiple facilities, these cloud-based systems are built to allow you to easily add or (if needed) remove sensors without disrupting the rest of your system. Since individual sensors are continuously uploading data to a single cloud-based application, adding new collection points or locations is faster and easier than ever, and will automatically begin populating in the same application.


Customization
Newer cloud-based systems offer levels of customization not previously possible with traditional methods. You can customize alerts for high/low variable readings, receive notifications when devices aren't reporting and more. User-based rules can also limit access to certain locations or roles. The most robust systems allow you to set up custom reports and alarms - choosing how and when to be notified, from text to audible alarm.


Data Availability
Cloud-based systems give essential personnel access to all your environmental data, whenever and wherever they need it. Be sure to find a solution that offers unlimited storage and 24/7 access. This frees up valuable time that would otherwise be spent downloading data and/or changing charts. Cloud-based systems also allow users (maintenance, etc.) to monitor applications remotely, saving weekend office trips. That way you always know your assets are tracked, and always protected, even when you or your personnel are not on location.


Security
Paper trails and hard drives are hardly secure, and yet many companies still store their data using these methods. Despite some preconceived notions about cybersecurity, industry-leading cloud providers are almost always more secure than traditional systems. With built-in redundancies, bank-grade login security and comprehensive infrastructure, the right system easily can keep your data secure and compliant.


Ease of Use
Traditional chart recorders and data loggers can be complex, and having to keep track of data across paper and hard drive storage makes the entire environmental monitoring process even more complicated. From mobile apps to touchscreen interfaces, cloud-based systems offer simple and clean designs - making it easier for any user to find and report on the data that truly matters.
Making the Switch Easy
Switching any system can be daunting. From planning to execution, successful implementation requires attention to detail to prevent costly downtime. Choose a partner with experience in enterprise-level implementations, and don't be afraid to ask for documentation on their process. The best suppliers will have a structured approach and will be happy to provide any support you need to get up and running quickly. Many companies will even offer value-added services to help you plan and install systems, map conditions and calibrate sensors.
It's Time to Go Cloud
Whether you're treating patients, transporting goods or manufacturing items – environmental monitoring is often a necessary part of ensuring ongoing operational success. Switching to a cloud-based system can help you realize more efficiency (with less headaches) in this essential aspect of your business.
Want to know more about how DicksonOne stacks up? Contact us today to get a quote or request a demo of our cloud-based product.