Posted on 11/11 at 9:00 AM
After an eventful week, we at Dickson have made it back home. One of the best parts of these events is the networking you're able to accomplish and Pharma/PackExpo was no different. We had the chance to interact with a wide variety of exhibitors and attendees and we can only hope that you all had the opportunity to do the same.
For those of you we interacted with, you can expect a follow-up message from us sometime in the next week. For those of you we weren't able to connect with, never hesitate to reach out to our team with any questions you may have. We can't promise to have all the answers but we're willing to work together to help you find the right solution for you.
As a local Chicago company, we are planning to exhibit next March at Pittcon which will be here at McCormick place. Let us know if you'd like to plan a meeting in advance of it. Otherwise, for those of you who aren't local, we will look forward to seeing you at next year's Pack Expo conference in Las Vegas. Until then, we hope you all had safe trips home and we can't wait for our chance to speak again soon.
Posted on 11/8 at 11:19 AM.
When you're planning a trip to an expo as large as this one there are a number of things you may do before arriving.
Put together a list of goals you want to achieve while at the show.

What do you want to learn?
Who do you want to meet?
What are you hoping to see?

Research the companies who are going to be in attendance.

Are my suppliers there?
Are my competitors there?
Are my customers there?

Map the show.
Mapping is an important part of any project. It gives you the information you need to better plan a strategy. When you map a trade show floor you're looking for ways to be most efficient with your time. When you map out a vacation you're planning in advance so you can take the shortest route from A to B in order to maximize the time you can spend relaxing or partaking in various activities your destination has to offer.
The goals of temperature mapping a facility aren't that different from the above. Mapping allows you to understand where any hot or cold trouble spots may exist within your chamber, office, warehouse, facility, or any one of many other different kinds of structures where temperature matters. It can help you plan for how you need to lay out a project and understand the best ways to not suffer loss or product spoilage because of something you could have known about far in advance.
If you've walked around both the Pack and Pharma sides of this expo you understand just how different temperature can be just a few feet apart. It's why we believe that mapping should be an integral part of your annual planning. It's why many customers are talking with us every spring and fall so they are prepared for what the changing season is bringing. It's also one of the reasons why we're here because we want to make sure you have every opportunity to know exactly what you may soon be facing.
If you're interested in learning more about temperature mapping, stop by our booth today, W-436, to schedule a live consultation with our Mapping Manager, or visit us online to learn more.
Posted on 11/7 at 1:05 PM
Walking around the floor at the expo this week you're likely to see a lot of pretty amazing machines. The Pack Expo side of the floor especially will make you stop and stare. This piece of machinery especially drew my attention.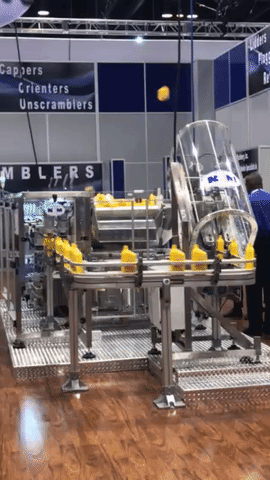 We have devices at our booth, but we're really here to talk about the SaaS services that make us an IoT company, or, as we like to talk about at Dickson, an IoS company. It's about simplifying the lives of our customers and your colleagues. If you have to measure temperature or humidity then chances are it's because you're required to do so and strictly regulated by your industry.
At Dickson, we work with more than 75% of Fortune 100 companies because we help keep them protected from excursions and away from the dreaded 483. If you are interested in learning more, stop by booth 436 for information or to schedule a live demo of our system.
Posted on 11/6 at 12:20 PM
This week, we're offering welcome to many from around the world as expo goers visit our hometown of Chicago, IL for both Pack Expo and Pharma Expo 2016. Located at McCormick Place in downtown, the event will welcome more than 10,000 visitors before it ends. Below is information on the show as provided by its website.
Pharma EXPO offers pharma, biopharma, medical device, personal care and nutraceutical manufacturing professionals a premier tradeshow experience. At Pharma EXPO, you can:

See technology, equipment and machinery in action from over 250 top-tier suppliers serving the pharmaceutical supply chain.
Learn about the latest breakthroughs from technology suppliers right on the show floor in free seminars at the Innovation Stage.
Network and talk shop with 10,000+ industry peers—and another 45,000+ processing and packaging professionals at PACK EXPO International.

Simply crossing a skywalk from the West Building of McCormick Place to its South Building takes you to PACK EXPO International, where you can:

Explore processing and packaging solutions from 2,100+ exhibitors serving a variety of industries.
Discover innovative new crossover applications for technologies that could serve your business.
Attend free education sessions with content relevant to you in the Food Safety Summit Resource Center, Reusable Packaging Learning Center and Innovation Stages.
If you're on site for the show, stop by and see us at both 436 in the west hall at Pharma Expo, or email me at Jeff@dicksondata.com to set up a live consultation with a product expert during the event.