Your data: How you want it, When you want it.
If you've ever talked to someone from Dickson, visited our trade show booth, or read other articles from this blog, you may have heard us say "Dickson means Data." To us, this means that the users of our products can acquire the data they need in the most convenient way possible as well as analyze it or manipulate it to their liking.
Our DicksonOne system is the best example of how Dickson embodies that mantra. Not only does DicksonOne make it convenient and easy to automatically collect your environmental monitoring data, but it also lets you view and analyze it in various forms. For Excel users, you can use DicksonOne's export feature to do simple calculations, graphs, or local backups of your data. For our techies out there, you can use the DicksonOne API to backup data to another server, perform advanced analytics, or integrate it into other systems (building management, manufacturing/production systems, or even business intelligence systems).
This week we bring one new feature to DicksonOne, a Reporting Suite.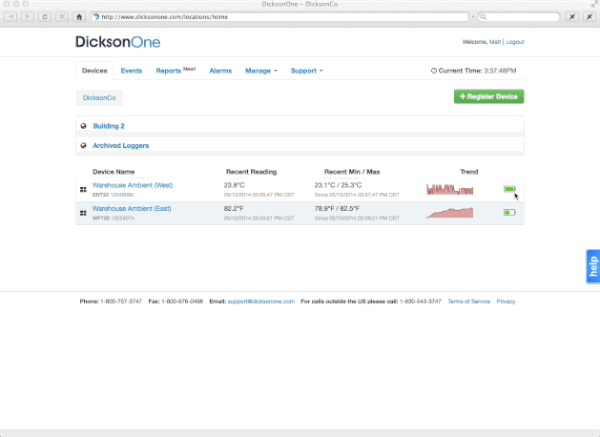 The DicksonOne Reporting Suite allows users to create customized reports that are automatically delivered directly to your inbox.
Users can customize:
How the data is arranged
Which logger(s) or location(s) are included
The name, frequency, delivery date
Recipients
We've created a handy little write-up about Creating Your First DicksonOne Report that walks you through how easy it is to create reports.
This is only the first release of this product. In the coming weeks and months we'll be adding new and improved features and functionality to the Reporting Suite. Sign up for our emails (scroll down to the website footer) to receive the most recent news.
Reporting Suite features we are getting ready for you:
Including a graph in your emailed report

Including alarm & other event details in your report

Historical reports from a customizeable date range

Duplicating a report to use as a template for new reports

And more!
If you have any questions or feedback shoot us an email at support@dicksonone.com.