It's no secret that technology products have transformed every aspect of our lives. Part of that stems from the fact that the costs to build such products have plummeted, thanks to cloud-computing technology such as Amazon's Web Services. In fact, data storage costs continue to decline as more companies migrate to the cloud, with Amazon recently reporting price cuts of up to 28% for some of its products.
In theory, anyone with an ambitious idea, a laptop, and an internet connection could create the next billion-dollar startup. If it's simple and relatively cost effective to build a software application today, why is there only a handful of successful companies whose products we use on a daily basis?
The most successful technology companies offer products that provide unique solutions to known problems, creating immense value for the customer. But companies will never know what those problems and pain points are unless they gain feedback directly from customers. Quantitative feedback is one important way to gather information. If usage metrics are declining for a particular feature, and a product has a negative ROI, then it's clear that some strategic changes need to be made regarding that particular feature.
However, qualitative feedback is arguably far more valuable. How do companies gain this type of insight from customers? By simply having conversations with them and listening intently. Amazon is but one notorious example of the result of listening to customers when developing products. In fact, the company's #1 Core Value is "Customer Obsession. Leaders start with the customer and work backwards."
This is evident in the fact that Amazon has transformed not only retail and cloud computing, but logistics as well (pay attention to how many Amazon trucks you have seen this Holiday season!). Amazon didn't set out to be a logistics company. But after discovering that customers are willing to pay more if it means faster and more frequent shipping, Amazon had to rethink its relationships with traditional logistics companies (FedEx, UPS) and come up with unique solutions. This was the result of countless customer conversations around improving the shipment of web orders.
As Amazon has demonstrated, if a product is to provide the greatest possible value and solve real problems for customers, understanding pain points and what is most important for a customer is paramount. At Dickson, we take every opportunity we can to engage directly with customers to gain that critical insight. While on calls with current or prospective customers, our sales and support specialists are always asking for feedback. During product demos or while visiting a customer performing an installation, we listen intently for clues on each individual customer's use case of our products.
One example of how our demos have led to a key feature, we have recently implemented a new tabular reporting functionality. Our customers have always loved our reporting suite and the ability to receive automated reports with the pertinent information from the monitoring points that matter most. Many customers, however, have requested to have the raw data sent in the same fashion. This led us to expand the reporting suite's capabilities to include a tabular report option with raw data automatically sent directly to report recipients. You can see an example of these types of reports below.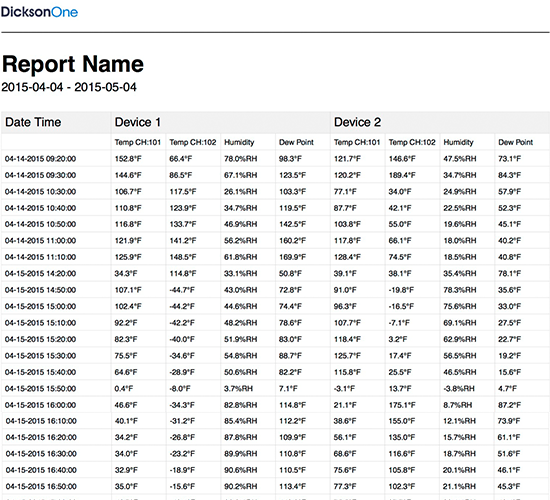 Some product development teams engage directly with customers through in-person user meetups. This enables a unique opportunity for customers to interact with each other, which facilitates discussions that could lead to incredible insights about creative applications of the product or new features. Plus it's a great networking opportunity! As yet another option for customers to engage with Dickson, we will be hosting a user meetup in the Spring of 2017. If you've ever wanted to play an integral part in shaping the future of a product or a company, please take our survey to find out more about our event!