There are few things more heart wrenching than hearing about American soldiers being wounded, or worse, in combat. There are also few things more inspiring than listening to America's wounded warriors talk about moving on after a personal tragedy.
At this year's SXSW conference, we were lucky enough to hear the stories of three incredible warriors who have become more with less. That wasn't any more clear than when Melissa Stockwell took the stage.
"I've been able to do more with one leg than I ever could have with two."
Stockwell was the first female from the Iraq war to lose a limb in active combat. Since then, she's become a bronze winner in the Paralympics in the sport of Paratriathlon. She also helped co-found the Dare2tri Paratriathlon club in Chicago where athletes with physical disabilities are introduced to the sport of triathlon.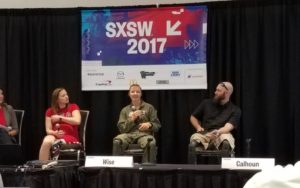 She wasn't the only wounded warrior to speak in the session either. Joining her were Christy Wise of the US Air Force and Heath Calhoun, an American alpine skier and a veteran of the Iraq war. Calhoun lost both of his legs in combat and found himself confined to a wheelchair.
"I really struggled for 2.5 years. I can't explain the difficulties in the beginning."
A major hurdle in his way involved prosthetics. It was difficult for him to find one that properly fit. Even then, it wasn't easy. He had to relearn how to walk.
"It wasn't until four years (after the injury) when I shook off the wheelchair," Calhoun said. "I was able to function again."
What may be most amazing about all of this is how far prosthetic technology has come. Cali Solorio of Ottobock North America moderated the panel. She's the company's Market Manager for Microprocessor Knees. People aren't going to be confused for Arnold Schwarzenegger in Terminator anytime soon, but the technology has come a long way.
"The knee's internal computer (microprocessor) controls an internal fluid, which may be hydraulic or pneumatic," according to Ottobock's website. "The internal computer monitors each phase of your walking pattern (your "gait cycle") using a series of sensors. The continuous monitoring and control of fluid allows the processor to make adjustments in resistance so you can walk more efficiently at various speeds and walk more safely down ramps and stairs."
Prosthetics aren't just for walking either. Wise, who lost her leg in a boating accident, actually has a portion of her closet dedicated to the many legs she owns.
"This leg," Wise said, pointing to the prosthetic she was currently wearing, "is called Xena, Warrior Princess. I named the leg I run with Bolt, and the leg I swim with is Ariel."
Regardless of what she uses her legs for, one thing is evident. Prosthetics aren't just appendages anymore. They're devices, and they're smarter than ever. It's just another example of devices that are innovating the way things are done in society helping to make things easier and more manageable for users.