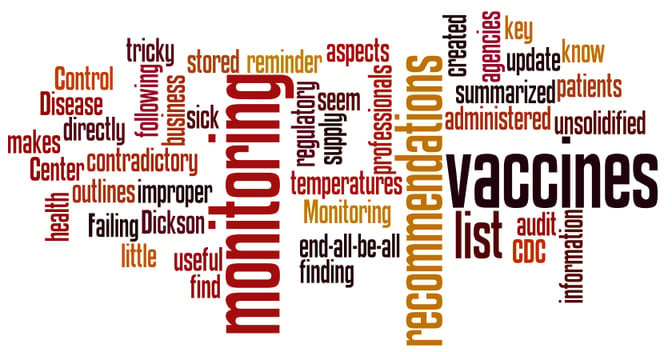 As the above image suggests, monitoring vaccines can be a little confusing. That's why we here at Dickson created the following list, which outlines six things to know about monitoring vaccines, summarized directly from the Center for Disease Control's (CDC's) recommendations. Failing an audit or finding out vaccines stored at improper temperatures were administered to patients makes us all a little sick. While this is in no way an end-all-be-all list of information on monitoring your vaccine supply, health professionals will find it a useful update and reminder on some key aspects of vaccine monitoring.
The information below summarizes certain aspects of the CDC's Vaccine Storage and Handling Toolkit, a comprehensive guide to Vaccine Storage and Handling.
1. Monitor continuously, please.
Checking vaccine temperatures twice a day will soon be a thing of the past. The CDC recommends continuous temperature monitoring for all vaccines. Think about it. If you check temperatures inside a refrigerator only twice per day, what could happen in between those 12 hour increments? Temperature and temperature and humidity data loggers allow those who store and administer vaccines to feel safer about the product they provide to patients.
2. Glycol or Glass Beads? Both.
This has been a confusing topic as of late, and the verdict isn't out yet on whether one type of material to immerse your probe in is better than the other. (When the jury decides, we will be sure to let you know.) For now, the CDC recommends both. Why do they recommend both? Check out the graph below:

One of our excellent engineers thought he would test each solution, to see if there was any variance in temperature readings. So he did. The probes were placed in the same environment, and thus monitored the same temperature. As you can see, we found very little difference between the two solutions. They each followed the exact same curve at the exact same time as the temperatures they monitored rose and fell.
Want to compare two devices on the same graph all from your laptop, just like us? Check out DicksonOne.com
But why submerse a probe into a bottle filled with glass beads or a Glycol solution? Because it takes longer for vaccine temperatures to change than it does the air of your refrigerator or freezer. A sensor (that includes internal device sensors!) without an attached Glycol Bottle or vial of glass beads records the temperature of the atmosphere. Thus, the sensor will show extraneous temperature readings caused by air fluctuations (for example, the opening and closing of a refrigerator door) which may not be indicative of the temperature of the individual vaccines.
3. Calibrate.
It seems like an annoying hassle, but calibration and re-calibration are essential to monitoring vaccines and ensuring the accuracy of temperature readings. Calibration is the process of ensuring your devices ability to accurately monitor temperature, by comparing it with a standard measurement which has been predetermined to be correct. Re-calibration may seem equally ludicrous. However, overtime, devices fall out of calibration, and thus need to be re-calibrated. Dickson has simplified the process of re-calibration with it's replaceable sensors.
Also, the CDC recommends as a part of their Toolkit using only calibrated thermometers with a Certificate of Traceability, or Report of Calibration (Page 39).
4. Wait three years to discard temperature logs.
Yes, three years. If you use a chart recorder to document your inventory, we recommend writing the dates and times of the monitoring interval on the back of your used chart, and then storing it in a safe place, chronologically, for future audits and review. If storage for three years of charts doesn't seem like your version of efficient (especially if you are monitoring multiple refrigerators or freezers) then consider investing in a data logger, which gives you the ability to download your data to a PC, or send your data to a secure cloud application.
If you are monitoring multiple vaccine storage containers at multiple locations throughout the vaccine cold chain process, a temperature monitoring system may be in your best interest. Temperature monitoring systems come in all shapes and sizes, so take some time and do a little research into which monitoring system is correct for your application. At Dickson, we boast the cutting-edge wireless monitoring system DicksonOne, currently being used to monitor vaccines across the world. DicksonOne allows you to monitor your vaccines from anywhere, and was designed specifically from customer feedback on what the data monitoring industry was missing.
6. Review your data at least once a week.
So you are monitoring, great. What next? Stored environmental data should be downloaded and reviewed at least weekly by providers, both to ensure the timely review of the data and to fix issues with refrigerators, freezers, or monitoring practices. The CDC recommends reviewing your temperature data weekly, looking for temperature excursions, and then reporting such excursions. If walking in on a Monday to find out your refrigerator's power went off overnight for multiple hours last Tuesday doesn't sound ideal, get yourself a data logger with preset alarms.
Have any other advice to add? Feel free to comment below!
DISCLAIMER: Links to cdc.gov and references to CDC are provided for informational purposes only. CDC does not endorse private products, services or enterprises.
---