A large healthcare network on the East Coast switched to DicksonOne for their environ
mental monitoring needs, upgrading the reliability and efficiency of the organization's monitoring practices.
The Situation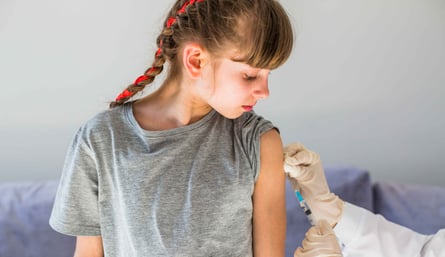 In response to the announcement of a 2018 policy change that adjusted the monitoring standards for the VFC (Vaccines for Children) program, a large East Coast healthcare organization with more than 150 locations in their network sought out Dickson to upgrade their temperature monitoring system for their refrigeration units.
The existing system lacked consistency, with data loggers and other equipment sourced from various manufacturers, some of which were still entirely manual, creating a decentralized system with no reliable backup to the twice-daily manual checks performed by staff. This system opened up the organization up to asset loss from potential temperature fluctuations, and in cases where vaccines were administered whose storage temperature could not be verified, the organization would have to absorb the cost of replacing the vaccines.
The Solution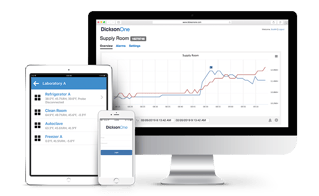 Dickson recommended implementation of the DicksonOne remote monitoring system, which provided the organization with a unified system that would provide continuous monitoring and send customizable alerts on environmental and refrigerator conditions to the appropriate personnel at all locations, allowing the organization to maintain regulatory compliance.
The installation began with 154 data loggers installed across 90 locations in a one week period, and has since expanded to more than 150 locations. Additionally, Dickson provided network-wide education sessions tailored to different levels of staff throughout the organization to ensure all personnel had the necessary familiarity with DickonOne's continuous remote monitoring capabilities.
The Results
Zero instances of needing to readminister a vaccine because of a temperature excursion
Several occasions where temperature fluctuations occurred but DicksonOne alerts allowed the team to intervene in time to protect assets
The organization discovered that DicksonOne exceeded its ROI in just 2.5 years, far surpassing the 8-year ROI goal the organization sets for new equipment installations
The Director of Vaccine Services reiterated to Dickson how valuable the system's continuous monitoring capabilities have been to the organization
About the author: Sales Manager Ryan Vandenack has spent the last 7 years working with Healthcare systems and Pharmaceutical companies to reduce their risk for medication losses due to improper temperature conditions.