In 2019, Oceasoft and Dickson merged and began to combine their expertise and resources. The two companies have formed a powerful alliance offering unparalleled capabilities in data collection, analysis, and reporting. Dickson Data's extensive experience in temperature and humidity monitoring and Oceasoft's prowess in wireless sensor networks and real-time data management create a comprehensive solution for industries requiring precise and reliable environmental monitoring.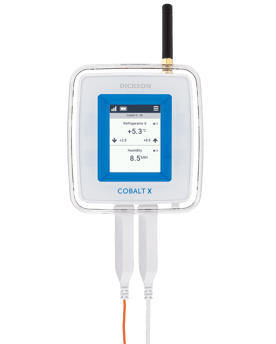 Cobalt X is the most versatile environmental monitoring tool on the market. With support for four external sensors, facilities can simultaneously monitor temperature, humidity, pressure, CO2, moisture, and light. The touch-screen offers easy navigation and setup and alarm acknowledgment.
Features:

Temperature, humidity, pressure, CO2, current, dry contact, light sensors

Touch-screen for easy alarm acknowledgment and setup

Designed for Life sciences, labs, hospitals, storage, manufacturing

AC power or battery operation
DicksonOne is a comprehensive, all-in-one monitoring platform built for convenience and scalability. The centralized device management allows users to quickly view all devices in a single location, manage and configure devices remotely, and make bulk changes rapidly. Based on customer feedback, the dashboard and reporting capabilities have evolved over years of continuous improvement to provide easy and effective management of entire facilities in one simple-to-use solution.
The merging of the DicksonOne and Cobalt X technology represents a significant milestone in providing an all-encompassing solution for facilities that require multiple monitoring points spread across various locations. The integration with DicksonOne will give facilities the very best in device management and reporting with the most advanced environmental monitoring device on the market.
Contact Dickson to Learn More: