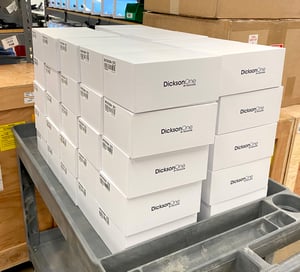 D
ickson has committed to donating 50
DicksonOne
data loggers
,
Replaceable Sensors™
, and software subscriptions, worth more than $78,000, to the
Illinois Emergency Management Agency (IEMA). The agency will then distribute these environmental monitoring tools to the hospitals, clinics, and other locations that need them most.
This donation will have an immediate impact, supporting increased capacity at overwhelmed hospitals and healthcare systems. With makeshift hospitals and quarantine sites being set up across the country, the proper environmental monitoring equipment is paramount. This includes maintaining the proper temperature for vaccines, pharmaceuticals, blood bags, food, and more.
Furthermore, the cloud-based capability of the DicksonOne system allows for fully remote environmental monitoring, meaning these essentials can be securely monitored without additional effort from the nurses and support staff who are already facing such a significant burden.
"Dickson believes that together we can make a difference in overcoming this unprecedented challenge. We stand in solidarity with those working tirelessly to help fight this pandemic," said Chris Sorensen, Vice President of Sales, North America, at Dickson.
About IEMA
The primary responsibility of the Illinois Emergency Management Agency (IEMA) is to better prepare the State of Illinois for natural, manmade or technological disasters, hazards, or acts of terrorism. Our goal is a "better prepared state." IEMA coordinates the State's disaster mitigation, preparedness, response and recovery programs and activities, functions as the State Emergency Response Commission, and maintains a 24-hour Communication Center and State Emergency Operations Center (SEOC). The SEOC acts as lead in crisis/consequence management response and operations to notify, activate, deploy and employ state resources in response to any threat or act of terrorism. IEMA assists local governments with multi-hazard emergency operations plans and maintains the Illinois Emergency Operations Plan.
About Dickson
By incorporating the best and newest innovations, Dickson enables our customers to manage compliance, asset protection, data analysis, and product quality with confidence. Today, Dickson provides validated solutions and services for over 80% of Fortune 100 companies in highly-regulated industries including healthcare, medical device, pharmaceutical, food, aerospace and more. With the trust of over 80,000 customers worldwide, Dickson helps to protect billions of dollars' worth of assets and remains an industry innovator and leader. Dickson is our customers' expert compliance partner for environmental monitoring.