Companies operating in highly regulated industries are no strangers to FDA regulations, audits, inspections and noncompliance. Regulations cover a wide range of topics, from product labeling to environmental conditions to manufacturing practices. Companies operating in the medical device, pharmaceutical, clinical research, compounding pharmacy, and food and beverage industries are among the most impacted.
In order to ensure compliance, the FDA conducts regular inspections and audits of companies that fall into their enforcement jurisdiction. During these inspections, the FDA representative is trained to look for and report on any areas in which the company might be operating outside of established guidelines. As such, there are several processes for identifying and correcting noncompliance.

FDA Noncompliance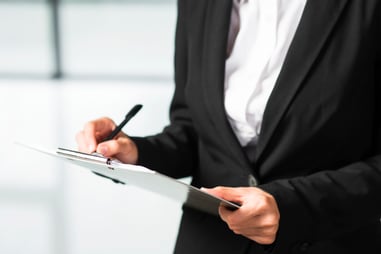 There are two levels of noncompliance warnings from the FDA: Form 483 and Warning Letters.
A Form 483, also known as a "Notice of Inspectional Observations", is the less formal and severe of the two and is typically issued after an inspection in which deficiencies were noted. According to the FDA, this is when "conditions or practices observed would indicate that any food, drug, device or cosmetic has been adulterated or is being prepared, packed, or held under conditions whereby it may become adulterated or rendered injurious to health." Since a Form 483 is issued onsite by the investigator, this offers companies the ability to review the findings and ask any clarifying questions before the inspection ends.
However, if the findings are a significant violation of FDA regulations or repeat violations – an official Warning Letter will be issued. This can include non-compliant manufacturing processes, sterility assurance issues, misleading product claims, or incorrect directions for the product's use. The Warning Letter outlines the nature of the violation(s) found and provides directions and a time frame for delivering a corrective action plan. After the defined time frame, the FDA will follow up to ensure the actions were completed and the company is now in full compliance.
Environmental Conditions
When researching or producing sensitive products like pharmaceuticals or food, ensuring consistent temperature, humidity and/or pressure is essential to ensuring final product quality. FDA inspectors look for adherence to guidelines regarding the tracking, control, reporting, and inspection of environmental conditions. Common environmental monitoring issues noted within 483s include:
Aseptic processing areas are deficient regarding the system for monitoring environmental conditions or aseptic processing areas are deficient regarding temperature and humidity controls.
Equipment for adequate control over temperature is not provided for a specific manufacturing process.
Equipment for adequate control over humidity and temperature is not provided when appropriate for the manufacture, processing, packing or holding of a drug.
Equipment for adequate control over air pressure and micro-organisms is not provided when appropriate for the manufacture, processing, packing or holding of a drug product.
Appropriate procedures have not been defined and documented for controlling environmental conditions.
Environmental control systems have not been inspected, or inspections were not documented, periodically to verify that the system, including necessary equipment, is adequate and functioning.
Responding Accordingly
In either case, taking quick and appropriate action is essential. While a Form 483 does not explicitly require a written response like a Warning Letter, it is commonly expected to do so within 15 days. An effective response will consist of a detailed plan for bringing your system and/or products into full compliance, including:
Analyze the findings reported in the Form 483 and/or Warning Letter
Create a response plan containing a timeline, and "Corrective Actions" for implementing a fix/change
Deliver the response plan to the FDA and internal stakeholders
Implement the changes and report back to the FDA once complete
Responses to a Form 483 can also include challenges or questions to the issues and observations noted and may possibly result in certain notes being removed from the Form. Companies are not able to challenge the points outlined in Warning Letters.
While responding to issues found in FDA inspections is important, it is always much less costly to keep your facility and products in compliance. Legal counsel or third-party regulatory experts can provide guidance on avoiding FDA violations. Additionally, value-added services from suppliers, like thermal mapping or product calibrations, can help identify and correct potential issues before an inspection occurs.
Summary
For companies in highly regulated industries, adhering to FDA regulations is imperative. However, if an inspection finds either minor or major noncompliance issues (through either a Form 483 or Warning Letter), responding and taking quick corrective action will help bring your company into compliance and prevent further penalties. Third-party partners and supplier services can supplement internal actions to help identify and fix any problems before the FDA inspection.