Food plants and warehouses have a responsibility to comply with FDA regulations to ensure that high quality products are being distributed to the public. Recently, the FDA has been particularly concerned about temperature monitoring conditions, and therefore, are issuing citations to facilities for violations. Due to COVID-19, there has been a backlog of inspections in the U.S; in fact, 21,521 inspections remain outstanding out of 23,297, all which must be completed by September. Factories can easily prepare for the audits using a GMP checklist for food industry, which outlines all aspects of their food manufacturing process an auditor will check for.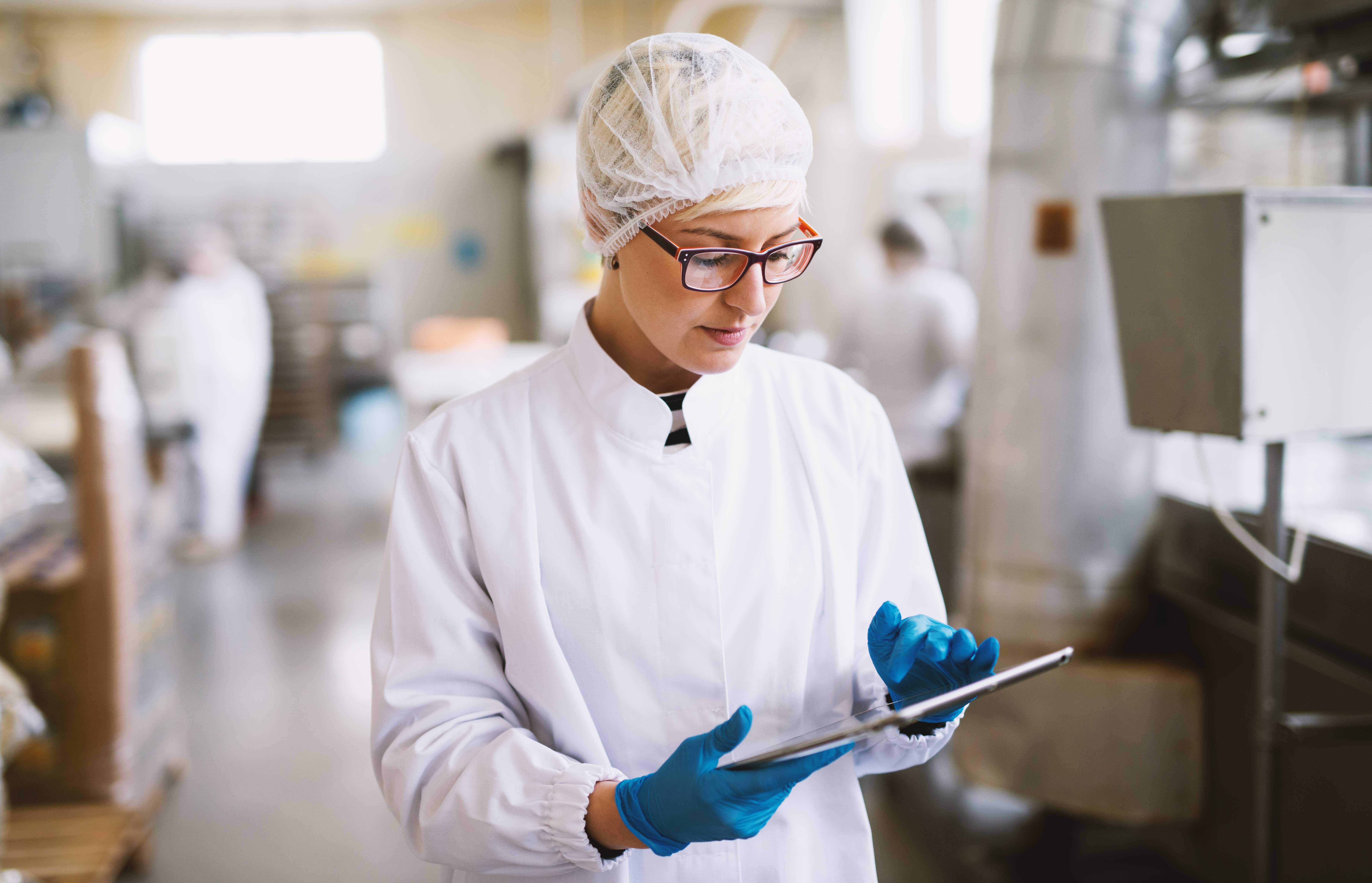 What is FDA Form 483?
Form 483 is issued to firm management at the end of an inspection. Its purpose is to specify which conditions have violated the Food Drug and Cosmetic (FD&C) Act. Inspectors are trained to assess and identify any conditions or practices that could result in the contamination of food, drug, devices, or cosmetics.
Once the inspection is complete, the auditor will discuss FDA Form 483 with management, who are subsequently responsible for providing a written response addressing how they plan on correcting the violations cited. All observations will be read and discussed to ensure management understands exactly which areas need correction. It's important to note that FDA Form 483 only includes existing violations, and management is fully responsible for addressing non-cited issues as well as those which have been identified by inspectors.
In addition to FDA Form 483, an Establishment Inspection Report will be submitted to firm management. This outlines all the evidence that was collected during the investigation and the company's response. After review, the FDA will decide if they need to take additional action. If not, the case will be closed.
What is GMP Compliance
A GMP audit is a set of requirements that ensures food products are produced safely and meet quality standards. A few different areas that can be inspected include water and other raw materials; equipment inspection; and consumer feedback. Additionally, all types of food manufacturers listed below can be subject to inspection:
Organic foods

Frozen foods

Seafood

Meat

Dairy

Produce

Ingredients
GMP compliance is not only recommended by the FDA, but by similar international organizations. The benefit of using the GMP checklist for food industry is that it allows food plants to commit to only producing food at the highest standards while increasing operational efficiency. It also covers sanitary and manufacturing practices that can help prepare food plants for HACCP certification.
How Food Plants and Warehouses Can Get Ready for an FDA Audit
There are many steps food plants and warehouses need to take to prepare for an FDA Audit. This usually happens at least once every two years for established companies, and more frequently for newer companies or those who had multiple violations during previous audits. Poor preparation can result in penalties and other severe consequences, so management should make sure to follow all requirements prior to the inspection. Below is the procedure auditors will take when visiting manufacturers.
Introduction
Manufacturers may or may not be notified of an FDA Audit, so it's crucial to consistently implement safety practices. In the event that the inspector doesn't provide notice, they will present their FDA identification upon arrival and the FDA form 482 Notice of Inspection. This is a general guideline as to what the inspector could look for during the audit. During this time, management is encouraged to go through the inspection agenda and ask any necessary questions. They should also allocate some time after the inspection to discuss the results and how to address areas of concern.
Facility Inspection and Audit
At this point, the inspectors will look for the following within the Quality Management System:

A management representative

Your quality policy: Management will need to show proof that you have an established quality policy applicable to individual on-site operations

Quality plan: This is a list of goals proving that the company will continue producing high-quality products

Training procedures: Management should be able to show inspectors that they have necessary training systems in place

Regular management reviews: This is documentation proving that the company consistently holds management reviews

Internal audits: Evidence that the company conducts its own audits and addresses any problems that could have occured

CAPA procedures: In this case, inspectors expect to see that the company is correcting any quality issues identified during internal audits

Risk analysis: This is proof that management is aware of potential risks and that they have an established monitoring system in place

Product reviews: Inspectors want to know how management is reviewing their own products and the process that goes into manufacturing them

Deviation reports

An evaluation of product data

Product reports

Equipment maintenance records

Manufacturing process reports

EHS control charts

Conclusion


At this point, the inspector will discuss their findings with management and how to address any issues which were identified.




Post-inspection
Company management will receive a letter from the FDA with the inspector's findings and instructions on how to proceed from there. Depending on how management responds and the corrective action they take, the FDA will either take further action or close the case.
The GMP Checklist for Food Industry
GMP Audits are organized into different systems that represent the different stages of a factory's operations, where an auditor will check different GMP requirements. For maximum efficiency, a company should use the GMP checklist for food industry.
1. Equipment and utensils
The FDA requires manufacturing facilities to purchase equipment that is easy to clean, complies with safety standards, and produces high-quality products. The equipment is evaluated during the installation, operational, and performance stages. After installation, it should be regularly inspected by plant personnel and tested to identify any existing issues.
The auditor will also check if the facility maintains a strict cleaning and maintenance schedule. To prepare for this, management should check for the following on the GMP checklist for food industry:
Surfaces absorb bacteria and can easily be cleaned

Products are protected from chemicals

Detailed instructions for cleaning the equipment is written and easily accessible for employees
2. Organization and personnel
How a company's personnel handles raw material and equipment is critical for maintaining a sanitary environment. To enforce this, GMP has made it mandatory for personnel to have:

Education, training or experience (or a combination of all three) to successfully complete their assigned tasks

Good personal hygiene and health habits

Take necessary precautions to prevent contamination
Management is responsible for employing and training enough personnel to manufacture, process, and package products. They must have strict rules against allowing anyone displaying symptoms of illness near the manufacturing facilities.
A factory must also have a "quality control unit" that approves production and materials. This unit must be responsible for keeping written documentation of all procedures used during the manufacturing process.
3. Production and process controls
Factories should have an established production and process control procedures to meet quality standards. Management is advised to make sure raw materials are stored properly and that rejected materials are prevented from being used in manufacturing in the future.
Production facilities should also account for any production changes and thoroughly check that product quality will be negatively affected. This can be applied to changes in systems, equipment, or processes. The auditor might request an explanation as to why the changes were made; in response, management should be able to identify the impact the change had on their production as well as answer any related questions by using this GMP checklist for food industry.
4. Buildings and facilities
The FDA wants to be sure that a factory can process and package goods safely and efficiently. This is why GMP compliance doesn't come into effect when production begins; it starts during the construction stages. It's also important for firm management to remember that maintaining the exterior of the factory is just as important as doing so for the interior. This is because the quality of the land and air around the factory can potentially lead to infestation or contamination.
A few other action items for factory management to consider in order to pass the FDA's audit are as follows:
Providing good lighting at all work spaces

Ensuring good ventilation is in place to prevent dust from entering the manufacturing area and to ensure temperature control

Well-functioning plumbing and sewage disposal

Ensuring toilet facilities are clean

Keeping the entire facility clean and sanitized at all times
5. Warehousing, storage and distribution
Responsibly storing products is just as important as handling them. Manufacturing plants can easily fail the audit if their storage facilities do not meet the compliance standards as per this GMP checklist for food industry. For instance, the quality control unit should ensure that the products are quarantined prior to release and that they are stored in regulated conditions. This means the temperature and light are appropriate for that particular product.
Management should also make sure that they have all distribution records available for the audit.
6. Document and records controls
The GMP compliance inspector will request to see various documentation proving that the facility is following all manufacturing standards. Management must have these documents readily available and be able to answer the inspector's questions. Examples include quality manuals, production schedules, and logbooks.
Management should also train their employees on data security. This means refraining from sharing passwords, restricting access for certain functions, and keeping electronic records secure.
7. Packaging and labeling
Packaging and labeling is an extremely important factor in food safety. Neglecting to properly list allergenic ingredients on labels can result in severe illness. To comply with FDA regulations and the Fair Packaging and Labelling Act (FPLA), factories must be fully transparent about what is in their packaged items. This also includes naming the manufacturer, packager, or distributor.
During the audit, management might be asked how products are tracked and if they are easily identifiable. To prevent issues in this area, staff should be diligent about the way they handle materials and to follow the instructions received during training.
How an loT Solution Can Help
Running a food manufacturing and packaging facility is a complex business due to the safety and quality standards management is required to meet. This can be difficult to do so manually, which is where IoT solutions come in. They were created to help streamline an organization's operations by integrating different technologies together. The sensors in IoT solutions allow appliances to connect, so employees can rely on getting accurate data in real time. This includes temperature and lighting control, which are crucial factors in maintaining a safe environment for food manufacturing, packaging, and storage.
Complying with FDA regulations is extremely important for food plants and warehouses. Manufacturers and factories are encouraged to use the GMP checklist for food industry to prepare for their audit and consider using IoT solutions to increase productivity amongst personnel and management.
Have further questions about IoT solutions and food manufacturing? Please contact the experts at Dickson.