Posted on 2/9 at 3:19 PM PST
In order to grow as a species it's important that we find ways to better society by making changes in places that are already established. Whether we do so by introducing new methods, ideas, or products is irrelevant as long as we remain hungry to innovate. If the first day of UBM West in Anaheim has been any indication, companies are still looking for ways to bring new ideas to the table.
While at the event, we had the opportunity to briefly meet with each of the top six finalists for this week's Innovation Award, and each have brought their A game. Below you'll find the location and exhibitor profile for each of them. Be sure to stop by and visit with them to see what's new in the world of Medical Design & Manufacturing. Then, follow along over the next few days as we profile each of the top six companies.
ProPlate/Professional Plating Inc. | Booth 438
Since 1983, ProPlate has specialized in electroplating services for precious metals such as gold, rhodium, palladium, silver, nickel, tin and copper. The company has developed proprietary solutions for a variety of medical device applications.
SUSE | Booth 661
SUSE is a pioneer in open Linux operating software. They provide reliable, secure and embedded Linux and cloud-based solutions that help enterprises manage complexity and reduce cost.
Product Creation Studio | Booth 1977
Product Creation Studio was founded in 1999 by Cameron Smith, an industrial designer and Scott Theilman, a mechanical engineer. Their skills spanned two separate ends of the product development spectrum, but they shared a common passion for making things. By combining their design and engineering talents and fusing them with a passion for innovation they were able to build the Product Creation Studio.
Syneo | Booth 2213
Syneo specializes in the design and manufacture of systems for precision cutting, feeding, drilling, tipping, punching, slitting, flaring, grinding, skiving, printing, lasing, and assembly of tubing and wire optical sensing and machine vision systems for part inspection and measurement. Drilling and punching tools for catheter and surgical device applications are applicable.
Marubeni Citizen-Cincom Inc. | Booth 3278
Marubeni Citizen-Cincom Inc. is the national distributor in the United States and South America for Citizen-Cincom Swiss-style lathes. The company incorporates its new Laser System L2000 on the Cincom Swiss lathes to process medical tubing on a single machine platform. This allows for conventional and laser processing in a single operation.
Proto Labs | Booth 3415
Proto Labs is one of the world's fastest sources for custom prototype and low-volume parts. The company's 3-D printing, CNC machining and injection-molding services utilize proprietary computing technology and automated systems to produce quality parts in a range of metal, plastic and liquid silicone rubber materials within days.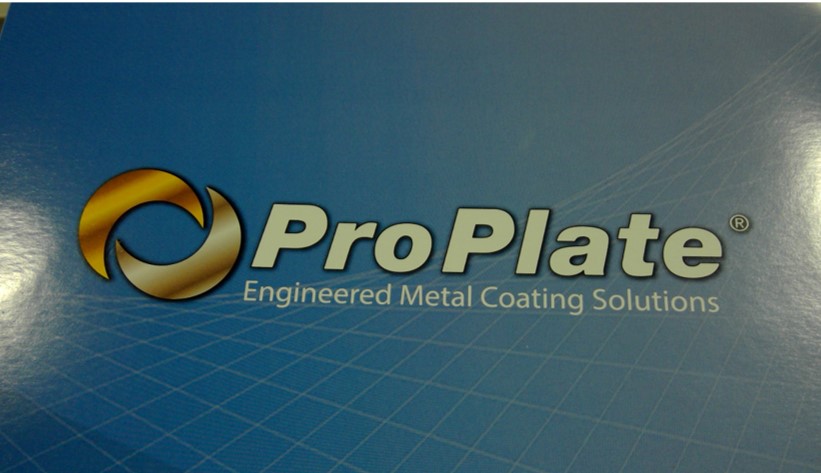 Updated on 2/10 at 10:00 AM PST
The first company up for profile this morning is ProPlate, a group that creates engineered metal coating solutions. While they're able to meet the needs of companies in industries like Electronics and Aerospace, the Medical space is the reason we've all gathered this week and, of course, the reason why they've found themselves up for the Innovation Award here at the conference. They have two main product innovations that have earned them the ear of the people.
Torq-Lok
This proprietary metal coating process allows Pro Plate to add additional benefits to traditional braided catheters. By coating the braids of a normal catheter, they are able to increase the Torque response by as much as 60%. Here's a great video they've put together that shows just what that means and why it's important.
Vizi-Band
A second innovation they've brought with them this week replaces the use of traditional marker bands. This process uses Radiopaque Marker Coating to allow the catheters to be seen under an x-ray during insertion. In the past, these bands have been made up of gold or platinum and fastened onto the end of a tube so it could be easily tracked as it made its way through the body. These types of bands have been known to cause problems to patients in the past because they have the potential for coming loose and shifting or even falling completely off. There have also been recorded examples of such bands actually causing internal abrasions during insertion of the catheter. If that wasn't enough, any cellular debris that may become trapped around the band could serve as a site for thrombus formation. Now, because the ends of the catheters are coated instead of banded, the risks are reduced.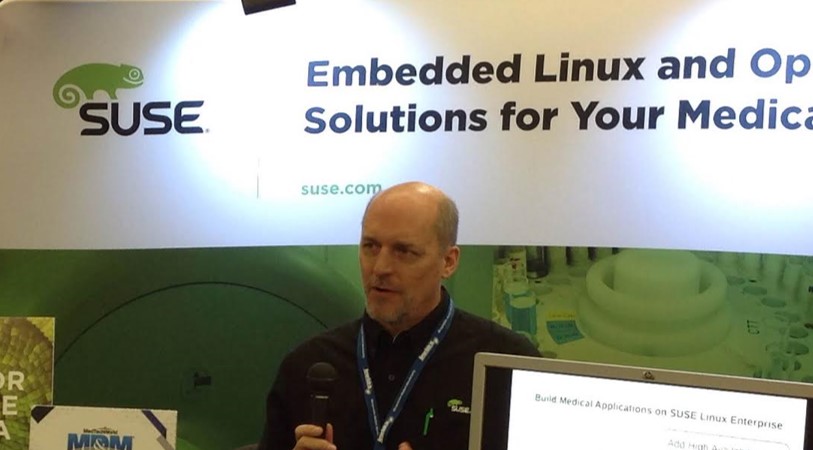 Updated on 2/10 at 11:50 AM PST
Second on the list of companies to visit is SUSE, an open sourced provider based in Germany. They are the original provider of the enterprise Linux distribution. According to their website they are "a pioneer in open source software, (delivering) smarter Linux and cloud innovation (giving) enterprises the control and flexibility they need to succeed." They're also the mastermind behind the foremost Linux and open source technology event called SUSEcon.
If you're unfamiliar with Linux, it's an operating system. In the simplest of definitions, you could compare it to Windows or Mac OS. However, there are a number of differences that set it apart from other OS products that exist. One major differentiation is that Linux is developed collaboratively. No one company is solely responsible for its creation or ongoing support. Instead, companies participating in the Linux economy share research and development costs with their partners and competitors. Spreading development amongst multiple parties has resulted in a large and efficient ecosystem with a level of software innovation that has few rivals.
For SUSE itself, the offerings that the company provides are many, but one of the more recent offerings put them in line for this week's award. At the end of 2015 they launched SUSE Linux Enterprise 12 Service Pack 1. It is marketed to add to the SUSE Linux Enterprise making it the most interoperable platform for mission-critical computing across physical, virtual and cloud environments. This update allows its users to:
Achieve SLAs for application uptime
Run highly efficient data center development and operations
Bring innovative solutions to market faster
One key feature they are very excited to talk about at the booth is JeOS, an acronym for Just enough Operating System. It's a new feature that allows companies to save time and resources by providing a smaller level of software (just the right amount) to get the job done while still guaranteeing the same enterprise-grade performance.
Another new option that you may be able to appreciate if you've ever experienced a buggy smartphone after an OS update is system rollback. If a new update is made to your device and it causes critical errors in its use, you can now quickly and easily return to the previous update until additional patches are available to address the root cause.
Stop by booth 664 to learn more on these and other innovations from SUSE.

Updated on 2/10 at 3:50 PM PST
Next I had to visit two companies: Syneo and Gimac. These two corporations have partnered up to create the Dynamic Guidewire Jacketing System. This new system leverages Syneo's experience in the handling, feeding and processing of wires and catheters with Gimac's expertise on powders and polymers to create a closed loop system for wire creation.
As they've described it, a user can now do all of the following through a single automated system.
Load hundreds of

nitinol

or stainless-steel cores into the system
The system will pick and feed the parts continuously through the extrusion cross head.
The system preheats cores prior to extrusion in order to promote adhesion.
It then measures the input and output diameter of parts, while precisely adjusting core velocity through the cross head to control coating thickness, and then cuts the parts to separate the discrete lengths.
Finally, it inspects the outside diameter on 100% of the wires, and separate the material on a pass/fail basis by using laser micrometer feedback.
This new system is clean room safe and able to produce material of needed variety in real time as it is required. This has the potential to save time because it will only need to be used when product is ready for use. This, in turn, also reduces waste because only what is needed will ever have any reason to be created.
This recent success doesn't mean that either company will slow down. As Simone Maccagnan, Saleas Manager at Gimac, said during our interview, "Innovating through automation can only provide more time for innovation." Already, Maccagnan and his team is working on Openmind, a project with the end goal of creating on demand production of entirely customized minimally invasive medical devices. Eventually, they anticipate, physicians will be able to work with highly tailored tools for their needs, customized for both the doctor and for the patient.
And, don't expect Syneo to slow down either. Their mission is to enhance the quality and reduce the cost of medical devices by providing integrated process and automation solutions. While they weren't able to share any immediate insight on what they have up their sleeve next, history suggests that they, and Gimac, will be right back here, again, as finalist for the Innovation Award in the future.
To learn more about Gimac and Syneo visit Booth 2213.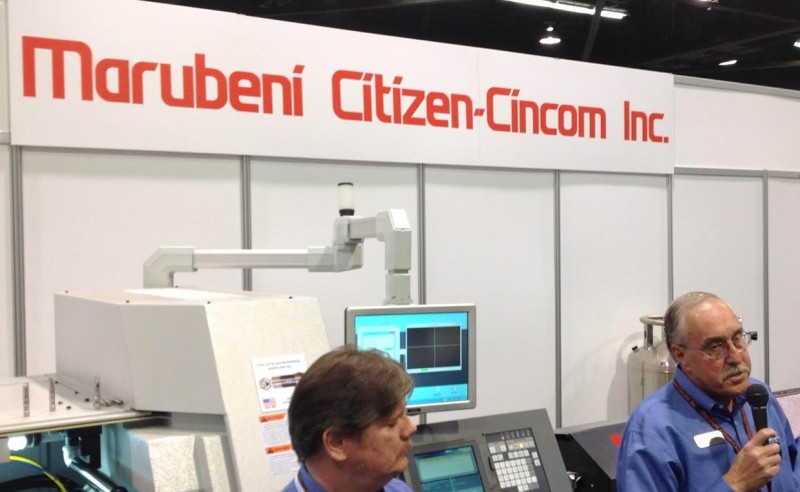 Updated on 2/11 at 9:05 AM PST
A major theme from this week's Innovation Prize top six has involved using new ways of thinking to promote time savings. While some companies have looked toward automation to save time, our next company, Marubeni Citizen-Cincom Inc., looked toward integration to simplify user's lives.
Marubeni Citizen-Cincom was founded in 1984 to market and service Citizen's CINCOM family of Swiss-type turning centers. This venture represents the amalgamation of two Japanese companies, Marubeni Corporation and Citizen Watch Company.
As if the nature of combining companies wasn't enough, the company itself has begun combining other items to simplify processes for those in the industry. They've created a modular Laser System, the L2000, in order to make multiple device manufacturing operations a simpler process. Cutting paths, offsets, and laser settings can all be edited within the part program. Here's a brief video to show the system in action.
The new system also provides the benefit of increased accuracy. Since you no longer need to take your material to multiple machines to finalize a product, you don't have to set and reset product each time. In these instances, the possibility of human error is all but removed from the equation.
The new system is able to connect to a number of machines helping to reduce the need for new expensive devices and providing the flexibility to choose a model whose power output matches the need. It allows you to save money on power and energy savings as well as the time necessary to create the piece itself.
To learn more on the L2000, visit Marubeni Citizen-Cincom at Booth 3278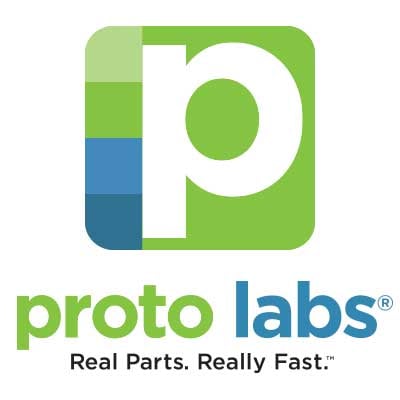 Updated on 2/11 at 10:10 AM PST
We've covered 3-D printing on this blog many times in the past. In fact, the Innovation Award went to a 3-D printing company in Minneapolis late last year. However, nothing we've covered has provided the insight and consumer tools that Proto Labs has promised this week at the show.
ProtoQuote, an automated interactive quoting system, allows Medical device engineers to upload their 3-D CAD model in order to receive free design for manufacturability analysis and real-time pricing information within hours of submission. Once uploaded, proprietary software analyzes the submitted model to generate an interactive price quote and design analysis. When used appropriately, it enables OEM engineers to make needed prototype modifications early and as needed throughout the process. This all allows developers to iterate, get premarket approvals, pass clinical trials, and launch products to market faster than ever before.
Once you receive the quote back, you're able to see live feedback on your upload. Within it you can see what changes will need to be made in order for the product to work based on strength and density modeling. Here's a screenshot from the portal's Manufacturability Analysis.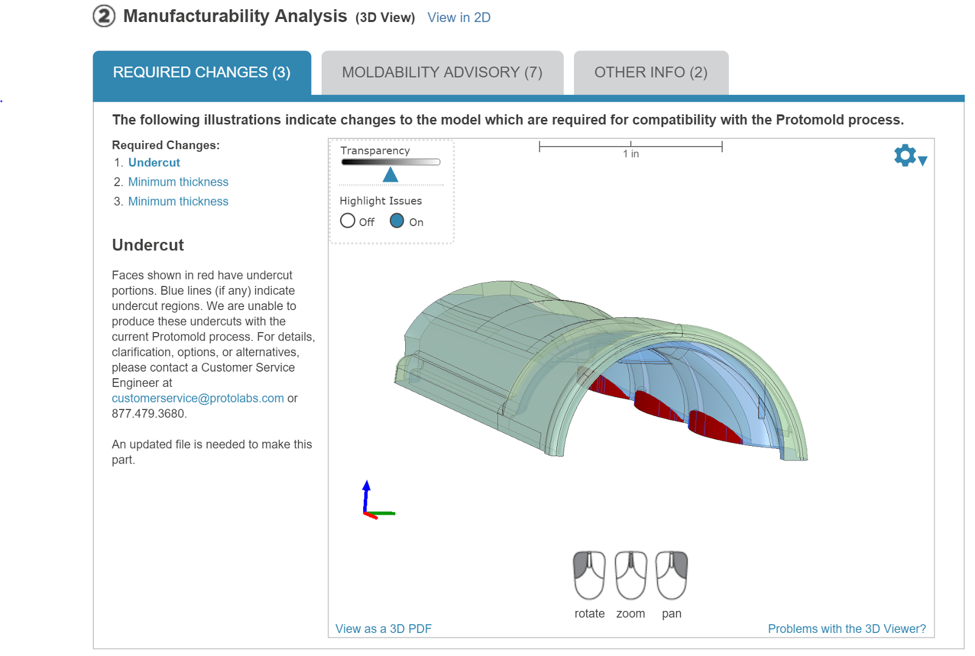 Within this step of the process, Proto Labs experts will give you a complete diagnostic that includes information regarding what changes will need to be made to give yourself the best results and show you what portions of the design will need to be thickened for its structural integrity.
The portal is also able to give you feedback regarding pressure and temperature based on computer modeling. Below is an example of their temperature model.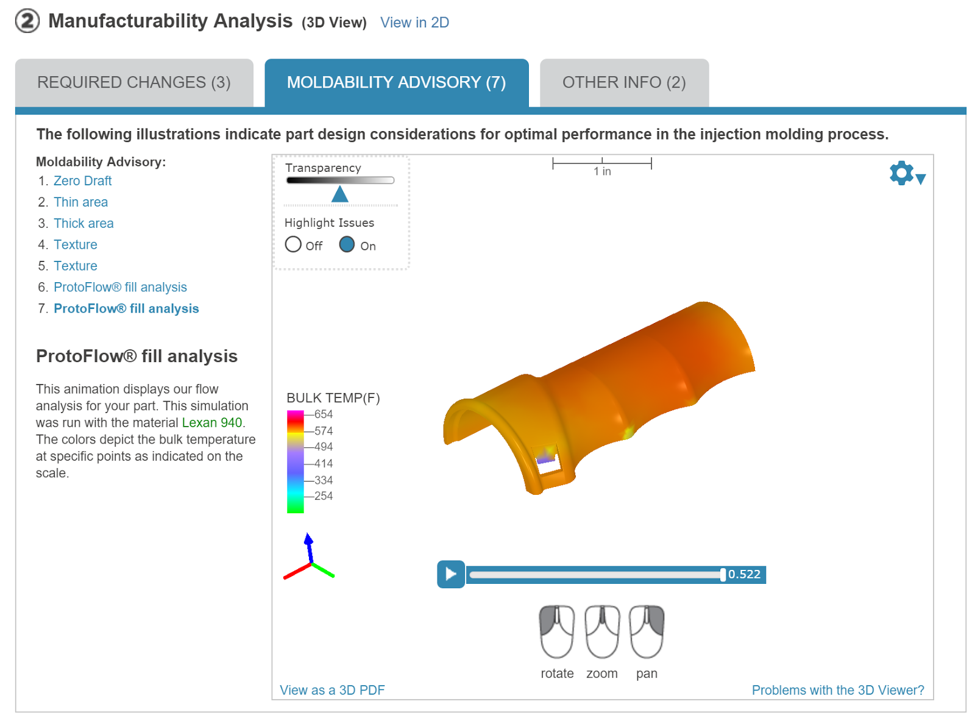 With the feedback that is provided, innovators are able to see how designs may fail in advance of purchase to limit speed bumps in the process to help get products to market faster. To learn more about Proto Labs and their ProtoQuote portal, visit Booth 3415.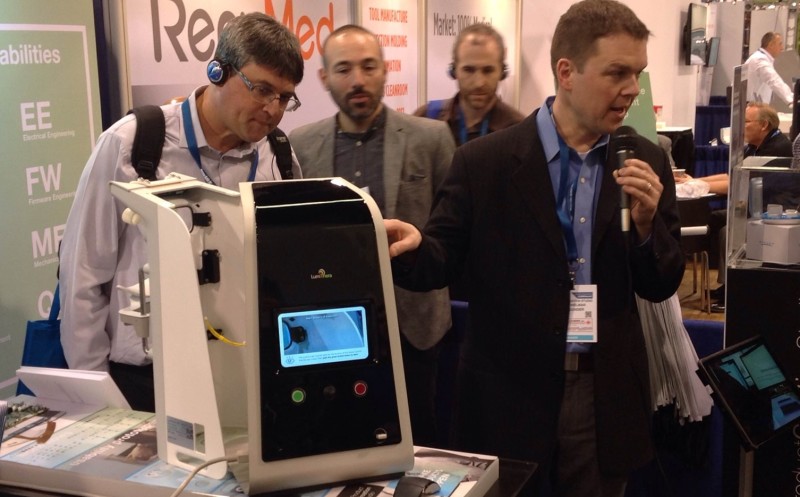 Updated on 2/11 at 6:00 PM PST
Our final stop on this week's Innovation Tour is with the company that won the Innovation Award: Product Creation Studio. This group of innovators takes medical theory that's been proven to work in a lab and turns into something that's been productized and ready to help the mass market.
This week, they've debuted their LT-300 that they've created in partnership with a company called LumiThera in order to help take on age-related macular degeneration, an ocular disease that affects ten million Americans each year. The disease itself comes in two phases. First, is the dry phase. Historically, there has been nothing that doctors could do when this appears in patients. Following the dry phase comes the wet phase. While there is no cure for the disease, doctors work to hold it off for as long as possible so their patients can maintain their vision once it reaches this advanced stage. Once the disease has run its course, the affected person suffers from vision damage that's irreversible.
However, while this new device is still being used in clinical trials, it has shown positive results. It delivers precisely dosed LED lights to an AMD patient's retina in order to stimulate the mitochondria in the eye, potentially halting the degenerative effects of the disease and even improving the condition of the eye. Product Creation Studio and LumiThera claim the LT-300 could prove more effective than other AMD treatments that have currently been in use such as vitamin intake and eye injections.
What's great about this product is that it is capable of being used by technicians in an office so the doctor is able to work with and see other patients. Even though the treatment only takes approximately five minutes per eye, it allows the medical professional to maximize time in the most efficient manner possible.
Now that their time has been freed up from this project, they've been able to move on toward another. Their focus, for now, is on a device that would help pediatricians to better diagnose ear infections in children. After seeing the success of the LT-300, other innovators will have their work cut out for them in order to dethrone this year's award winner. You can bet that other companies have already doubled down to claim the top spot at next year's conference.
Join us next time when we are on site at Pittcon in Atlanta, GA. Send a message to Jeff@dicksondata.com if you'd like to schedule a meeting with our team while we're there in order to talk about our newest innovations, or you can look for us on site at Booth #3824.