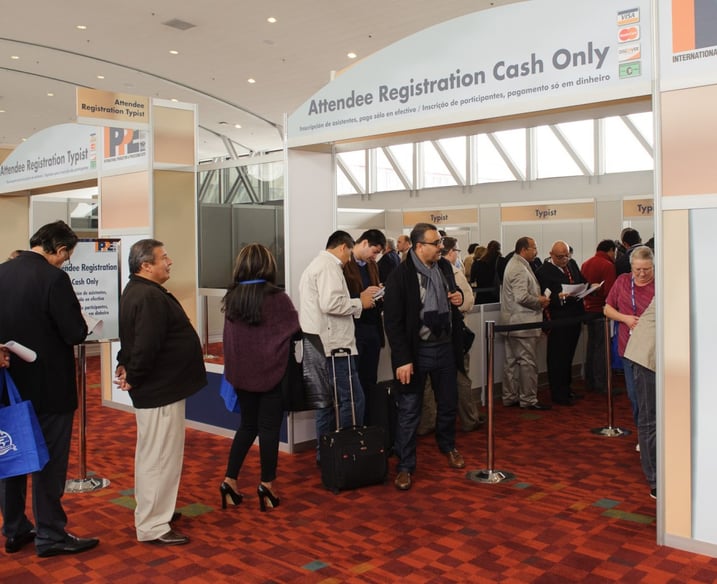 We sent our Content Strategist, Michael, to the 2014 International Production and Processing Expo and he is writing about his adventures. Check out the rest of his daily recaps at www.blog.dicksondata.com.
Today the terms "broiler," "LED," "chicks," and "probiotic,"swirled around my head like those yellow birdies do when you get knocked out in a cartoon. I know what your thinking, but no, I didn't get into a fight at IPPE. But on Monday, January 27, 20014, I did find out that chicken can be really, really, engaging.
As the intro states, I'm at IPPE, the International Production and Processing Expo, or as some have come to know it, "The Chicken Show." IPPE is the new conglomeration of three formerly separate shows: International Poultry Expo, International Feed Expo, and International Meat Expo.
The Expo doesn't start until tomorrow, Monday the 28th. But, as Exhibiting Companies transport plastic chairs and lay down plush carpet in the Exhibition Halls, the International Poultry Scientific Program was in full force.
I attended the Scientific Forum obviously not as a scientist, but as an interested third party. The forum was held in Exhibit Hall B of the Georgia World Congress Center, and featured the following "Tracks" of Research Presentations:
Physiology and Pathology
Metabolism and Nutrition
Environmental Management
Processing and Products
Can you guess which one I attended? Dickson manufacturers Environmental Monitoring Devices, like Data Loggers and Chart Recorders (some of the best in the world in my humble opinion), so I listened as speakers talked about the Environmental Management of live chickens in various environments.
"Live" is emphasized, and deserves an explanation. The presentations I attended focused on Chickens yet to be processed for food. These included both Broiler Chickens and Free-Range Chickens. Why in the world would I care about that? Keep reading please.
Two presentations stick out in my mind. The first, was a research project by a North Carolina State Research Team, entitled, "Incubation temperature profiles affect broiler feathering," presented by Jenna Scott.
The research focused on how temperatures during incubation affect the development of feathers in chicks. Feather density may seem oddly trivial, but in Chicken Broilers, I learned that the more feathers a chicken has, the less likely they are to get scratches, bruisers, and infections in the tight quarters over their life span.
What they found was a correlation between feeding regularity and temperature of eggs during incubation. While the temperature difference between the control group and the chicks under test was not large (never more than 3 degrees Celsius) the feather density fluctuations were still apparent. When subjected to Skip-A-Day Feeding, the chicks had a higher feather density when subjected to an early-low late-high Temperature incubation (low temperatures early, and higher temperatures late).
The second presentation that moved me forward in my seat was titled, "House Environmental Impact of Wood Pellet Burning Stoves," presented by J.B. Hess, part of an Auburn University Research Team.
Their research focused on perceived effect of Wood Pellet Burning Stoves on the temperature, ammonia content, and moisture control of Chicken Broiler House environments as compared to traditional, propane gas heaters. Their abstract paints a slightly different picture than their presentation, as in their presentation, Hess seemed wary to make any concrete conclusions about the data they had collected, yet towards the end of their abstract, we do get some quantifiable evidence.
These two talks allowed me to take a step back and reflect on where Dickson fits into this narrative. I originally thought that IPPE would be a chance for Dickson to explore the processing and refrigeration sectors of the Meat and Poultry Industry more thoroughly. On this first day at the Poultry Scientific Forum however, it seems I was mistaken. The need for environmental monitors knows no bounds. Would Chicken Broilers be better served if they placed a few temperature monitors throughout their facility? In the second experiment, four temperature/humidity monitors were used to measure temperature fluctuations. If temperature does have such an impact on Broiler efficiency, maybe a few data loggers is worth the investment?
Tomorrow I'm off to explore the Exhibition Hall, talk to ya'll then.