The United States Pharmacopeial Convention, or USP, is a nonprofit science-driven organization that establishes standards for medicines. These standards are developed with independent experts and are primarily published in a compendium of General Chapters. While USP deals with quality and safety, it has no role in enforcement, which is left to the FDA and other authorities.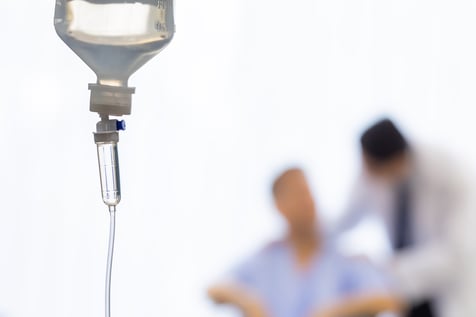 In June 2019, USP released revisions to general chapters <795> and <797> regarding non-sterile and sterile pharmaceutical compounding preparations, respectively. According to USP, these modifications "assist healthcare practitioners with consistently producing quality compounded medicines to help ensure patients receive medicines that are the right strength, quality and free of contaminants." USP also released a new chapter <825> which introduced new standards for compounding radiopharmaceutical drugs. The final guideline date is December 21, 2019, in which the revisions and new <825> will go into full effect.
For compounders, who are responsible for creating pharmaceutical preparations that are personalized for specific patient needs, these changes are designed to ensure consistent quality and protect public health. But they also present challenges in adoption and process implementation.
USP <797>
USP <797> deals specifically with compounded sterile products, or CSPs. These sterile medicines include injections, infusions, baths and soaks, implants and pulmonary inhalation preparations. Below outlines the main changes:
Compounding Definition
Under <797>, the categorization and definition of compounding activities is also changed. One example provided is that of a bag-and-vial system. According to USP, if "a nurse attaches the bag and vial, that is not regarded as compounding. However, if a batch of bags and vials are being attached within the pharmacy, to be put into different automated dispensing cabinets, that process is now considered "sterile compounding" and would need to be done inside an International Organization for Standardization Class 5 hood."
Risk Level Categorization
Prior to the June changes, there were three categories of CSP microbial contamination risk level: low, medium, and high. Now, that has been simplified to Category 1 and Category 2. Category 1 represents lower-risk levels in which CSPs can be prepared outside of cleanrooms and have a shorter beyond-use date. Category 2 deals with higher-risk CSPs which must be prepared in a cleanroom suite and will typically have a longer beyond-use date (BUD). Under the revisions, some companies (mainly hospitals) who were previously classified as dealing with medium-risk CSPs will be reclassified as Category 2 facilities. This adds heightened regulatory oversight and facilities will likely need to change their internal processes to respond.
Mandatory Testing
USP <797> now requires that mandatory checks, such as media fill testing or glove fingertip testing, must now be conducted semi-annually as opposed to annually. This will essentially double the workload for quality assurance employees and double supply costs. Additionally, surface sampling is now mandated to occur monthly. The previous version of <797> only loosely recommended this sampling to occur "periodically".
Primary Engineering Controls (PECs)
Revising the Facilities and Engineering Controls section, USP is adding a clearer definition of the types of PECs.
Additionally, the USP is concerned with potential contamination from unclassified air. The revision requires a Compounding Aseptic Isolator (CAI) and a Compounding Aseptic Containment Isolator (CACI) in a cleanroom suite where Category 2 CSPs will be prepared.
Radiopharmaceuticals
Prior to this revision, radiopharmaceutical administration was covered under USP <797>. Those guidelines are now housed entirely in the new General Chapter <825>. According to USP, this includes "regulatory requirements for handling radioactive materials necessary to balance patient safety with radiation safety of workers and others by following the radiation protection principles."
USP <795>
USP <795> deals with nonsterile pharmaceutical compounding preparations, including oral medicines, topicals, nasal sprays and otic. As such the changes are less extensive than the changes to <797>. Changes include:
Elimination of confusing "Categories of Compounding"
Exclusion of specific practices from being categorized as Compounded Nonsterile Preparations (CNSP): administration, non-sterile radiopharmaceuticals, reconstitution, repackaging, and splitting tablets
Addition of provisions for measuring airborne particles and facilities are required to determine whether a closed system processing device is necessary to reduce exposure.
Revision of the Beyond-Use Date (BUD) criteria to take into consideration both stability and water activity to assess the susceptibility of CNSPs to microbial contamination and potential for degradation due to hydrolysis.
How to Address the Changes
The final deadline of December 2019 is rapidly approaching. Facility managers should already be working to evaluate existing facilities, identify areas that may need to be altered or upgraded, and establish process documentation. The costs of doing so will vary based on existing capacity. However, it is possible that some facilities now recognized as Category 2 may need to create fully engineered cleanrooms, which can cost upwards of $200,000.
There are also significant impacts on employee workload and expectations. Testing that was only done once a year and is now required biannually essentially doubles quality assurance time. It will be important for employers to account for this reallocation.
Employers must also thoroughly train any worker not familiar with the controlled environments required for Category 2 compounding. Another training option is through the American Society of Health-Systems Pharmacists (ASHP). In response to the revisions, they launched a "Compounded Sterile Preparations Certificate program for pharmacists who manage personnel and facilities involved in compounding sterile preparations."
Since USP has no enforcement authority, the impact of noncompliance is still unclear. It will be important to keep track of both FDA actions as well as state public health rules. But since many states lack a dedicated enforcement agency in these matters, the Occupational Safety and Health Administration (OSHA) may ultimately be responsible. Still, bringing facilities into compliance and preparing accordingly will be essential, regardless of the final enforcement authority.
What This Means for Environmental Monitoring
For USP <797> Category 2 facilities, the impact is clear. Many facilities that were previously considered medium risk will now need to implement cleanroom standards; environmental monitoring is a key tool in ensuring specific conditions are met.
Compounders should already be aware of USP <797>'s requirement to record temperature in any CSP storage area, and those devices must be verified for accuracy annually. Ante-rooms and storage areas often experience contamination, but using continuous environmental monitoring can keep conditions within acceptable ranges to prohibit microbial growth. In cleanrooms, cross-contamination is prevented in part by using negative pressure, so tracking differential pressure inside vs. outside of these areas is critical. Per USP <797>, quantitative results from pressure monitoring must be reviewed and documented each day compounding occurs.
Even non-sterile environments require the measurement and removal of significant airborne particles. Environmental monitoring systems can provide a continuous view into the environmental parameters, making it easy to keep rooms at the optimal temperature and humidity to reduce the spread of airborne particles.
If you're a compounder getting your facility ready to address USP <797> changes, thermal mapping could help identify areas where excursions (e.g., hot spots, humidity issues) are more likely to occur, preventing costly loss or non-compliance in the future.