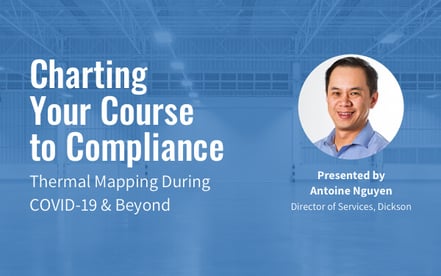 Thermal mapping can be a significant undertaking under any circumstances. With the realities of COVID-19 limiting organizations' ability to have their full teams on-site or bring in outside contractors, it adds another layer of complexity to the process.
With this in mind, Dickson Director of Services Antoine Nguyen led a webinar on June 18th entitled Charting Your Course to Compliance: Thermal Mapping During COVID-19 & Beyond.
Leveraging his extensive experience on a variety of thermal mapping projects, Nguyen covered a variety of mapping tips and best practices, while also addressing steps organizations can take to adjust their mapping process in the face of the pandemic.
Topics covered included:
Why mapping is crucial to sound compliance strategy
Challenges specific to thermal mapping projects and tips for navigating them
Dickson's 8-step approach to getting mapping right
COVID-19's impact on mapping, and strategies to help your organization adapt
One step Dickson is taking to help organizations conduct necessary mapping projects in this new reality is the introduction of COVID-19 mapping kits. These kits come equipped with calibrated data loggers and the necessary equipment for installation, along with Dickson technical support, allowing organizations to benefit from Dickson's mapping expertise without bringing outside personnel into their facility.
If you're interested in learning more about a COVID-19 mapping kit, or have other questions about thermal mapping, feel free to contact Dickson directly.